Bakersfield College professor, who helped popularize random acts of senseless kindness, dies at 80 | News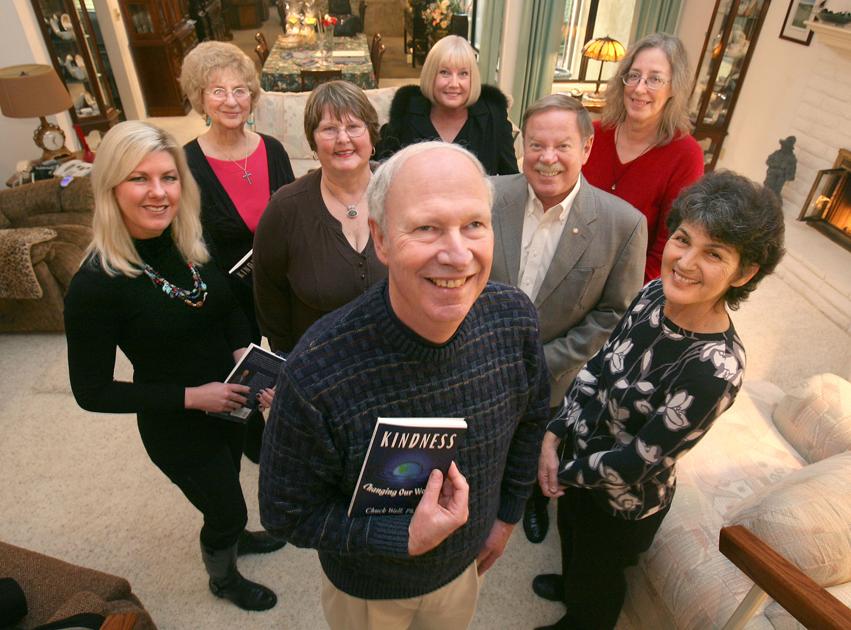 No one can claim to have invented the concept of doing something kind for another human out of the goodness of their hearts. But for the late Chuck Wall it was certainly a calling.
The Bakersfield resident would have many titles and phases throughout his career — Bakersfield College professor, devoted husband of 56 years, mentor, public speaker, author, craftsman and lifelong student who thrived despite losing his sight as a teen — but Wall was best known for encouraging people to be kind and also for living what he preached.
Wall passed away of natural causes at age 80 on June 8. Friends said the best way to remember him is not with a donation to a particular cause or flowers but by doing what he loved best: paying it forward to someone.
"He was for real on the kindness thing," said Tim Ross, a close family friend.
Wall's personal interest in what he called the kindness movement began in 1993 when he heard a morning radio host mention a "random act of senseless violence." He decided to flip the sad cliche around for an assignment for his Human Relations class at Bakersfield College. He challenged his business students to "commit one random act of senseless kindness" and write up how it made both them and their recipients feel.
The assignment took on a life of its own beyond the walls of the classroom. The kindness movement — and Wall — would make their way onto the national and international stage, including the Oprah Winfrey show in 1994.
Looking back, Bakersfield College professor and director of archives Jerry Ludeke finds the assignment and its global reach all the more remarkable for where it came from: a business class. 
It's influence is even seen on bumper stickers with the phrase, "Today, I will commit one random act of senseless kindness… Will you?"
There were critics who said acts of kindness weren't enough to combat the world's ills. In 2013, Wall wrote a response to a letter in The Californian that characterized random acts of kindness as "superficial and meaningless" exercises. He responded that "[t]o attack kindness as a trivial activity seems to me to ignore just how much each of us today needs kindness in our lives."
Denise Pennell met Wall in 2006 when she was a clerk at the Kern County Board of Supervisors, and he was presenting a proclamation on kindness. She said was tired of all the attention focused on senseless violence rather than kindness and the necessary qualities of kindness: respect, dignity, compassion and humility. Pennell and her husband Larry Pennell became quick friends with Wall and his wife Di, who friends describe as a strong, low-profile partner.
"He's made a difference in thousands of lives around the world," said Denise Pennell.
That could be a conservative estimate. Ross said as a professor at Bakersfield College that Wall taught between 5,000 and 6,000 students. He was one of the most popular professors on campus, whose classes in business, communications and public speaking were tough to get into even when he would teach in the cavernous forums that held hundreds, Ludeke said.
One of those students was Nathan Gutierrez, who was born with Spina Bifida and used a wheelchair. At 18, he arrived in Wall's class still trying to figure out how to navigate the world with a disability.
"I heard there was a professor who happened to be blind," Gutierrez said.
Wall's first class left a deep impression on him. Wall gave the class a rousing introduction, befitting a professor teaching a class on public speaking. At the very end, he casually added, "Oh yeah and I'm blind."
The professor struck a balance that Gutierrez admired: he didn't have any insecurity over the fact he couldn't see.
Wall began to lose his sense of sight as a teen at East Bakersfield High School because of an inherited condition called retinitis pigmentosa. Teachers told Wall's parents he wouldn't graduate high school — mistaking fading sight with a lack of intelligence, Ross said. He went on to get three master's degrees and a Ph.D. at UCLA. Wall merely called his blindness one of life's nuisances.
Gutierrez said the pair developed a special connection that would continue over the years, and Wall encouraged him in his public speaking over the years. He encouraged him to join Toastmasters. While Gutierrez was working for Kern County in workforce development, he was invited to speak on a project at the Department of Labor at the Eisenhower Executive Office Building next to the White House. 
"He gave me the confidence to do that," he said.
Wall made public speakers of those who weren't even his students. Jennifer Rogers-Etcheverry, the founder of local food and gift supplier My Husband's Nuts, met Wall while doing a "pay it forward" promotion with her products. She made him a special basket and he called her asking her to meet with him.
At this point, he was a retired professor, but he had taken up woodworking and pottery. He presented Rogers-Etcheverry with a ceramic pot and said it was the perfect size to hold the nuts. A blind man offering to make pots for her? She said she thought he was, well, nuts. Years later, she's sold about 600 or 700 hand-thrown pots from him. And she described her relationship with Wall and his wife as being like a second set of parents.
In his later years, Wall journeyed the country to speak, always accompanied by his wife. But Wall requested that Rogers-Etcheverry would accompany him, too, on his circuit where he would bring the house down with his story. He said it was important for her to be there and tell her story of female entrepreneurship.
"He believed in me," she said.
Denial of responsibility! Swiftheadline is an automatic aggregator around the global media. All the content are available free on Internet. We have just arranged it in one platform for educational purpose only. In each content, the hyperlink to the primary source is specified. All trademarks belong to their rightful owners, all materials to their authors. If you are the owner of the content and do not want us to publish your materials on our website, please contact us by email – admin@swiftheadline.com. The content will be deleted within 24 hours.